Image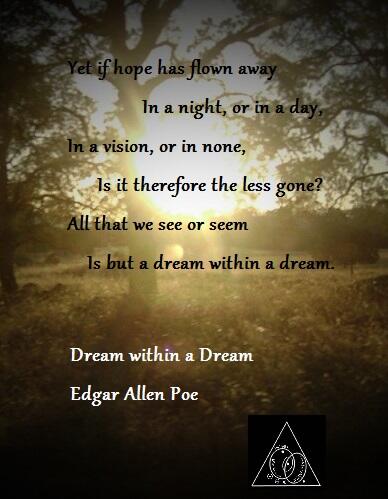 20/03/2013 | Categories: Contemplation, Dreams, love, Poetry, quotes, Reality, Relationships | Tags: Dreams, edgar allen poe, love, Poems, poetry, quote, Relationships, writers, writing | 2 Comments
---
Aside
This story is based on two dreams. One where I was trying to find the 6th vark and the other while exploring the Cabinet of Rodin. I have worked the two together into a theme that has been revolving in my head the last week. A little Edgar Allen Poe for those who know him. Feedback welcome.
I think the Institute's contract to discover the 6th Vark's identity first revealed we were no longer in love with each other. The exact moment, 10.32 in the morning on the third day. We were in the House of Lineage in Strasbourg. As I was examining the 5th Icon for clues I remember she passed me; reaching out across the room. I reached out too, hoping to brush her fingertips, but as she passed we simply gathered the air between us and my hand returned to adjust the magnifying glass I was using.
There had always been tenderness in the quality of her touch that I adored and craved. As we passed we would caress an arm or run fingers gently through each other's hair, steal meaningful glances when no one was looking. We would share our affections in secret, giving the impression that we were experts not swayed by emotion. Only in the few private moments when we were alone could we truly be ourselves. We still shared the same bed, prepared our meals together and discussed our work with the same enthusiasm. Yet something had changed. In that moment of missed hands it became obvious that we were simply acting out of habit and convenience and it marked the start of the events that led us both to the cabinet.
We were lacking something. Helen mentioned it first after we returned to present our arguments to the Institute. The committee could not easily accept our evidence.There was no 6th Vark, only a reproduction of the 5th. It destabilised the value of the entire collection. Helen approached them with the same warm smile she gave to everyone. They could not shake her or persuade her to dispute anything we presented. We had left them with our conclusions and they remained arguing over what should be done. Our findings were conclusive, there was no other answer for them to consider. The 9 Varks were now 8 with an addition spare. It could now be restored correctly.
Sitting in the foyer of the Institute waiting for the car, she turned to me and stated simply, "I felt completely alone. Where were you in there?" I was shocked. I had, as always, taken my seat at the side of her presenting the evidence, photographs, testimonies and samples as my love proceeded in her usual professional manner. She was shaken. Nothing had changed on the outside and yet inside she felt that I was no longer there with her. I promised that I would try to make her feel more relaxed the next time and that we should spend some time together.
Over the next few weeks we retreated to the country, refusing work and choosing instead to try and reconnect with the magic that had once been there. The mood soon deteriorated. Rather than spending time on long walks together, Helen began consulting with other professionals, assisting on other unsolved mysteries. I resisted the temptation to start my own projects until the second day. We began to see less and less of each other, meeting at mealtimes and discussing the various problems that had arisen while our laptops sat open at our sides. Occasionally I would steal a glance in on her as she worked stretched out across the bed. I searched for some feeling of desire, the compulsion to whisk her to the bedroom or steal a kiss. There was nothing. Our romance was at an end.
By the end of the first week, I was working on American time, rising in the evening and sleeping mid morning. A project had started in Panama investigating a tomb of mummified children. As the items were dug up, the team displayed live video feeds and chemical analysis. Setting up in the front room, I had regular meetings with the team who confessed they were not nearly experienced enough to be heading up the site. Helen slept and I worked and in the mornings we would mumble pleasantries to each other discussing the work over breakfast. She was equally absorbed in her work. By Monday I was entertaining the idea of just flying out there to oversee the forensics when I noticed that Helen was gone.
There was a note on the kitchen table. All it said was, "Gone to Paris. 'Think we've found an early Rodin. Dinner's in the fridge. X" She hadn't mentioned Rodin at all since we had retreated into our own little worlds. There was only one person who she could be with in Paris and that was Jerome. I looked at the note and considered the implications. We were moving in separate circles. I felt nothing except relief that she had not only considered but acted in a way that I had only thought about. I felt less like the guilty party and relaxed into my work. Perhaps a frivolous fling with Jerome would be all that she needed to come back to me. Something I could live with.
The second week came to an end and there was no word from Helen. The Panama excavation was taking too much of my time. Forensic science was not a strong skill amongst the volunteer team who were working around the clock but the American team from Harvard was arriving in two days and a storm was coming in. I wanted to support as much as I could before the whole dig site was under water so I considered that Helen was equally as busy and thought nothing more of it.
The next Friday, there was a message from Jerome. He hadn't seen or heard from Helen since he had called her and wondered if everything was ok. I did my best to calm his fears and said I would ring around. She may have decided to see her family; I would check and get back to him. There was something else in his voice I couldn't fathom. I felt there were other things he needed to say but couldn't. Had they been together? When I put the phone down, I started to panic, it wasn't like her to arrange a trip and not turn up. I checked her family and the nursing home where her mother lived, no one had seen Helen in 3 weeks since she had come away with me.
I wrapped up things with Panama and packed for France, Jerome met me at 6am the next morning at Calais. He was young, athletic and tall; his dark hair styled and long like a footballer. He dressed in an Italian style, something I loathed but Helen had always gone for. He looked tired and furtive, older than his years, glancing around us as we left the ferry terminal and emerging into the open air. We drove to Paris and he filled me in on what had been happening.
Jerome had been dealing with a Serbian family who had taken the Lombardi apartments in the Cannaregio quarters, Venice. They had acquired, by means they were not prepared to discuss, a bronze plated cabinet reputed to have been completed by Rodin 13 years prior to the infamous "Gates of Hell" but holding all the same details including some very early renderings of "The Thinker." Jerome had pictures from various angles but admitted he had not visited the piece himself. My first thoughts on seeing it were of the sheer size of the thing. It certainly looked like a Rodin at a glance but I couldn't tell from the photos alone. Why it had been shipped to Paris was a mystery again. Jerome assumed the family was selling.
As we drove, I began to imagine all kinds of horrific outcomes. Jerome had probably asked as little as possible about the people they were dealing with. Surely this would also have troubled Helen. I tried to reassure myself that this was just her way of finding some space away from everything although I knew deep down that Helen was not a person who enjoyed her own company. She was more at home in an evening dress at some launch discussing recent finds, promoting our business and generally talking things up. She would have probably wanted to get straight to work on the cabinet's authentication. I asked Jerome to take me to the cabinet; perhaps something Helen had considered doing.
The crate containing the cabinet had been shipped to a small gallery in the Jewish quarters in Le Marias. The owner was frequently out of town and the area was quiet, mainly private apartments, cafes and very exclusive hotels. We were able to park off the street in a small, private, underground car park that housed a collection of several very expensive cars. The porter came to greet us. Jerome had called ahead explaining we required to see the piece. He led us up to a storage area above the main gallery and left us alone. Helen had been here. Her overnight bag and coat were stacked in the corner although the porter had no record of her visiting the site. Even before I had seen her things I knew that she had been. I couldn't put my finger on it. Maybe a faint trace of her perfume in the air but this was absurd. The crate had been split open in a frenzied way with pieces strewn across the floor. Aside from the explosion of crate and the cabinet it left exposed in the centre, there was nothing else to see which made the presence of this dark monolithic structure even more overwhelming.
I searched her bag for clues. Her return tickets to London and a booking for the l'Hotel d'Albret. I checked immediately, it had been pre-paid but the room was never used. Whatever had happened to Helen had happened here at the Gallery. The police were now firmly on my mind, an option I could see worried Jerome as much as the disappearance of Helen. Although I felt no regard for his feelings, something held me back; a feeling that someone was watching us. I decided to inspect the cabinet to see if there was anything we may be missing. Even then there was a small part of me that was waiting for some tell-tale sign that everything was all right. My heart was racing as I stepped up to the front of the cabinet. It was taller than me by at least the length of my forearm.
The cabinet was black; incredibly dark even in the light from the large windows of the storeroom. The bronze seemed to absorb all of the light that fell upon it which was strange and would have intrigued me more if not for my feelings of urgency. The doors depicted the descent into hell commonly associated with his later work that now resided in Zurich. Contorted figures were twisted and wrapped into difficult and ugly positions. In the door panels, shapes and patterns swirled downwards leading the observer to experience a certain sense of vertigo as if the ground had been shifted in front of you. I felt drawn towards it; compelled to trace the metalwork with my hands feeling for some kind of catch that would release them. Its surface was very smooth and a lot warmer than I had imagined. I started to search to side pillars for a release catch of some kind; reaching in behind the figures of angels and demons entwined together.
Ironically, I thought to myself that Helen should be there. She was the expert on Rodin. I remember how she had boasted to me when we first met of how she had discovered 3 forgeries in a private collection when she was 22 years old. Rodin remained elusive to me beyond the chemical composition of the bronze used to cast his sculptures or the paint he used on canvas. I could tell you if something was painted in Italy or cast in a foundry in Poland. I could extract any information you wished from the tiniest substance but I couldn't tell you if he would have used a long brush stroke or if he would have produced a sculpture based on a specific model. The artistic detail was her department. I was just the science and the paperwork.
Jerome had disappeared downstairs to talk on his mobile phone. The conversation was strained and hushed,( most likely the owner of the piece.) I quickened my examination of the cabinet. No guarantees how much time I would have before the whole thing disappeared. I was feeling around the back of the head of a small carved lady prostrate against the pillar that supported the enormous marble mantle of the cabinet when I felt movement under my index finger. The head popped back slightly, something whirred and rattled inside the cabinet. I stepped back startled to see that part of the ebony side paneling of the cabinet had opened to reveal a small shelf. My heart was trembling a little. Had Helen found this? I moved slowly around the cabinet to get a better view and peered inside.
On the shelf there were three items. A small art deco statue of a Siamese cat, a piece of parchment rolled and sealed in a purple ribbon and a bone saw which appeared to have been used very recently. My head began to spin a little and I felt as if I weighed less than a feather. Why would a used bone saw be concealed here? Without thinking I began to feel around the two gigantic cabinet doors to try and find an opening. I was calling her name and wrestling with the doors but they would not move. Jerome and the porter were hurrying back up the stairs; I had to find a way in.
Searching the room I found a fire extinguisher and was about to smash it through the doors when the two men grabbed me from behind. After a struggle Jerome finally took the weapon away and pinned me to the floor. "What's going on Jerome? There's blood in that cabinet. Where is she?" I was breathing hard, not just from the scuffle but more out of blind panic. She was in there. I could feel it. The porter was checking the cabinet for any damage and nodded at Jerome when he was happy there was none.
"She is not here and I do not know where she is. Please Richard you need to calm down and listen to me. Our lives may depend on it." He brought his face close to mine with his last words, eyes betraying his urgency. "We need to leave this place right now!"
"I'm calling the police Jerome. Whatever you have involved us in, you can explain it to them." I strained against his hold meeting his gaze with my own desperation and anger. The more time passed the more I became convinced that Helen must be inside the cabinet.
Jerome sagged a little, releasing his grip slightly. He dropped his gaze and sighed a deep and long sigh. "It won't do you any good Richard. Believe me I've tried already. Someone very important wants this cabinet cared for and unharmed. Someone very, VERY important." He let go of me, stepping up and back, kicking at the crate wood that lay around us. "We need to leave this place and never come back. You can call them when we have left but you will never see this again. I don't know where Helen is. I know she came here but she left again and yes, it is very likely that the new owner had something to do with her disappearance. We simply cannot do anything at this point Richard."
He offered me his hand, "We must leave now before they get here Richard or there will be no hope for us. You have already seen too much."  I looked at Jerome's hand and I considered everything that had happened. I went through Jerome's words. I recalled the items in the cabinet, Helen's bag, the porter. I looked at the cabinet and thought of Helen, her absence from everything around me. I tried to stir memories of times we had spent together. The cases we had worked on, moments we had touched, times we had kissed and shared embraces. I stared at the cabinet and imagined Helen imprisoned inside. I went from the hand to the cabinet and back all the time trying to consolidate my emotions and stir myself into action and as I did I remembered our hands; Helens hand; my hand;  missing in the air, stirring the dust between us momentarily and retreating to nothing. A circle had been completed. It was enough.
I took his hand and raised myself from the floor. As I did I launched myself towards him, pushing him back and off his feet and towards the cabinet. I used every ounce of strength I had to slam his body into the cabinet. As we both rebounded from its bronze doors I watched as it rocked backwards in slow motion tilting away from us. The porter tried desperately to move into position to catch the enormous black metal slab that was falling towards the floor I noticed the gun holstered under his left arm. It was too late to catch it as he discovered once he had stepped into its path. The cabinet came crashing to the floor.
The sound was colossal, like prison gates in far away corridors slammed shut forever in my head. I recall I felt the ground shake but didn't know if I had imagined it. Jerome lay on the floor next to me gasping for air, I couldn't see the porter. I ran to the extinguisher and smashed at the doors of the cabinet which now looked more like sarcophagus. Metal rang on metal three times before I realized it would not even make a dent in it.  I threw it down at him and cursed him for involving us both. Placing my hands on the surface of the doors, kneeling on its front I gazed down into the carving of the abyss and accepted that I would never see her again.
I heard wheels turning inside, mechanical motion, clockwork ticking. The cabinet was moving beneath me; gently vibrating. Looking down at Jerome, I could see pain and terror. He was backing away from me in disbelief of what was happening. My hands and knees were sinking slowly into the now fluid doors of the cabinet. The warmth beneath increased, the air became harsh and dry and the light from the windows dimmed. I stared down into the void that was opening below me and saw fires and flames within the scene. Figures on the pillars began to move, far away voices cried out incoherent and impossible to tell if they were in pain or pleasure. So this would be my fate? I saw Helen transfixed in the same way I was now being pulled towards the heat, terrified and tantalized by everything she saw.
As I resigned myself to the abyss, I felt desperate hands at my shoulders. It was Jerome. He pulled me out of the cabinet. I was already knee deep. As he pulled I felt a searing pain arcing through my legs. Fire leapt about my lower body and Jerome screamed pulling me away. We lay for a moment listening to the noise of creatures writhing inside the depths before I caught a glimpse of my legs and passed out. I have vague memories of the moments afterwards as felt from somewhere distant. There were footsteps falling hard on metal stairs; voices calling; flames and smoke rising around me; the heat on my face. I was dragged, carried, pushed and pulled around. Somehow he managed to get me to the car and to the hospital.
I have been here for two weeks now. The police have been to see me several dozen times each time asking the same questions each time receiving these same answers. The cabinet has vanished as has Jerome but if these two disappearances are connected, I cannot say. I have moments where I weep but I do not know if it is for the use of my legs or Helen or perhaps both. The drugs they are giving me make emotions a stranger. They say the flesh will never grow back fully and each morning before I have been fully medicated the pain is unbearable. The diary is the only recourse I have but it still gives no further insight into my feelings for Helen.
Every morning when the pain has subsided and I think clearly once more, I try to remember her and every morning it is the same image, her hand reaching out of the abyss and our fingers stirring the flames and the smoke between us.

Please leave a vote for your
favourite stories
. Your feedback is valuable and helps me to decide what I need to improve and what I need to add more of. Feel free to leave comments on my work anywhere you wish.

See more Short Stories by Supernova1987 at:

05/05/2011 | Categories: Detective, Dreams, History, love, Relationships, Shorts | Tags: Death, edgar allen poe, History, indie writing, Magical, Relationships, Short Stories, writers, writing | 2 Comments
---